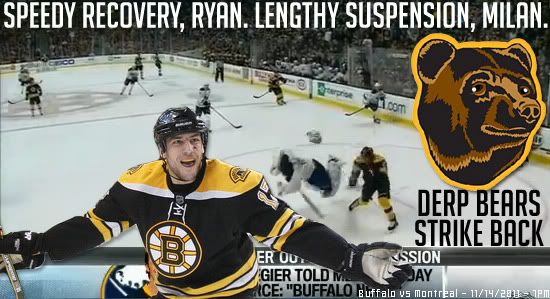 -
-
-
(For once I don't mind the Hab fans so much.)
-
-
-
Wow, look at Enroth stats: 5-0-0 - 1.75 GAA - 94.4%
Very impressive !
I have a feeling that it will be a close and low-scoring game. 2-1 or 3-2.
-
-
-
Lost a bit of respect for Gaustad on the Lucic charge...I always thought he would be the perfect 4th line center for the Habs, even Moen (which I like a lot) would have been more agressive than him.
-
-
-
The NHL is a ****ing disgrace. The entire post-lockout "new" NHL is basically disposed of every time Lucic steps on the ice. Why the league thinks letting Claude Julien coach a goon squad is more important than having a functioning rulebook is beyond me. Miller's arguably the best goalie in hockey, and he was elbowed in the head at full speed by a proven cheap shot artist and is now out indefinitely. Lucic got 2 minutes and the Bruins got an easy win. Seems fair.
-
-
-
I feel bad for Miller, he gets run over and nothing gets called. Lucic really is a piece of ****. I like that he plays with intensity and I like that he's the powerforward type player everyone wants, but you have to draw the line somewhere, and than line is way before running over goalies. Goalies aren't big like players are, they don't need to be able to handle a physical player.
I think Boston has been going around doing whatever they want for too long. And you just know all the Bruins fans are laughing at the "overreaction" from NHL fans for Lucic running over Miller. I don't agree with payback because it's not good for the game but just once I'd like to see Boston at the short end of the stick with this crap. Why doesn't someone run over their goalie and get away with it.
I would never hope for a Bruins player to be injured, it's sadistic to hope for other players' injuries, but let me tell you, if it did happen, I wouldn't care as much as if it happened to a player from another team just because Boston seems to not care for the well-being of the colleagues so why should we care about their players?
-
-
-
Oh by the way Tyler Myers is a healthy scratch tonight. Looks like Lindy Ruff likes to stifle young players development too.
-
-
-
3-2 Habs in a shootout.
(so close...)
-
-
-
Absolutely Enroth has been better than Miller this year, but still Miller's a perennial all star. He really is a marquee player. Anyway I don't think Lucic took out Miller to make the game an easier win, he did it to injure him, plain and simple. He clearly enjoys taking cheap shots, just look at the people he's sucker-punched.
-
-
-
No Miller,
We have no excuse if we lose this game
-
-
-
It's impossible to have a civil discussion with most of their fans. Some of them are pretty cool, I suppose it's the case for most fan bases, but I don't know. I just can't stand bRuin fans.
And yeah, there was quite a few trolls on these boards during the Pacioretty incident.
-
-
-
Even though it's against my team, but if the sabres run our goalie I don't expect that player to get suspended...
-
-
-
I wonder what would have happened had he connected. Miller probably would have been suspended.
-
-
-
Pretty good period, the DD line looks solid, Buffalo is sleep walking be nice to get a couple early in the second and bury them.
-
-
-
Chara didn't even know Pacioretty was on the ice.
Apparantly awareness of what is going on around you is not a pre-requisite to being an NHL player.
-
-
-
I find Lucic a disgrace for what he did, go back to your board with your dirty team.
-
-
-
Just a matter of time before the Sabres tie this game up if this continues..
-
-
-
lol Gaustad is such a clown... if we were better on the PP the loss would be entirely in his hands
-
-
-
If it goes to SO the sabres are gonna crush us.
-
-
-
Who is the brunette seating behind Lindy Ruff ?
Andrew Brunette
-
-
-
Watch Vanek score with a monster shot
-
-
-
vanek, roy, pominville, stafford, etc. SO = we lose
-
-
-
Vanek is a beast in the SO...
-
-
-