Obviously, I'm a big time Sabres fan. A little known fact is that fandom has grown in me an intense loathing of about twenty other teams in the NHL. Let's begin.
I realize that I'll probably use the phrase "dirtiest team in the league" to describe about twelve other teams on here, at least with Anaheim I can say it and have every other Western Conference fan nodding their head vigorously. They were third in PIM per game last season, and first in fighting majors. While this might normally be awesome, its cottilion of douchebags and assholes are so unlikable you find yourself rooting for anyone and everyone to kick their ass.
I mean really Perry? Maybe you should go back to singing about your heterosexuality and your fondness for cherry chapstick. Just saying.
Most Likable Player: Todd Marchant (Buffalo Native)
Least Likable Player: Katy Perry
Fan Likablity: Anaheim has fans?
Look, I don;t have a lot to say about the Thrashers. They play in the south in front of about 600 people and 200 teeth every night. They have virtually no one intriguing on their roster, their fans are pathetic and they'll probably move. In the words of Jordan Sullivan from Scrubs, "I don't hate them. I nothing them."
Most Likable Player: Evander Kane
Least Likable Player: Niclas Bergfors (for his abundantly stupid name)
Fan Likability: It has to exist to be liked.
The Bruins used to be the most tolerable sports franchise from that shit-hole of clam chowder and obnoxious accents to the northeast. Then they signed a retarded half-giant, slapped a 33 on his back and told him to play defense. I'm not saying Chara is stupid, but the dude's voice sounds like a cross between Chunk from the goonies, and what I imagine Helen Keller to have sounded like. Come to think of it, he kind of looks like that too.
Least Likable Player: Tie between Zdeno Chara and Johnny Boychuk
Most Likable Player: Tie between Drew Carey and Vladmir Sobotka
Sobotka's fight with Sekera is what I imagine Helen Keller shadow boxing to look like. Except she'd land more punches.
Fan Likability: It's fucking Boston, what do you think?
Calgary Flames:
Look, everyone knows that Calgary is my second favorite team. Their 07-08 playoff series with the Sharks was the sort that hockey fans dream about. Seriously, you have CuJo coming off the bench down 3-0. Then Cory Sarich rails the shit out of Patrick Marleau who started bleeding like Tsar Alexander, and the Flames rallied to win 4-3.
"The Flames are trying to win the series by giving the Sharks AIDS via Marleau's face" --- My friend Britt.
Most Likable Player: Miikka Kipprusoff. Extra letters for extra awesome.
Least Likable Player: Ollie Jokinen
Fan Likability: Hotter than a Red-out in the best stadium name in existence. Pengrowth Saddledome. Sounds like either a horrific STD, or an awesome sexual maneuver. Either way, I have a boner.
You have sold the smallest percentage of your seats in the NHL since 1990. You're the only team to move and fill a smaller percentage of seats. Fuck. You.
Most Likable Player: None.
Least Likable Player: Tie, Eric Staal, Cam Ward, Everyone Else, Their Ice Girls who are undoubtedly all lesbians with penises.
Fan Likability: I hope a tornado touches down in Raleigh.
I don't care much about the Blackhawks. Really, it was nice to see them win a Stanley Cup for the first time since 1961 and that's about it. I don't have any reason to like or hate them. They're slightly enjoyable to watch play and that's about it.
Most Likable Player: Marty Turco (I'm current motherfuckers!)
Least Likable Player: Now that Andrew Ladd is gone, I don't really know. Let's pick someone who doesn't deserve it. Why? Because FUCK YOU Corey Crawford.
Fan Likability: dada da dada da dada
Quebec did not deserve to lose its team. That having been said, Colorado isn't a bad market, nor is their team terribly unlikable. Plus I can piss off the wannabe French by referring to them as "Patrick Roy's Team." Awesome.
Most Likable Player: Craig "That Guy" Anderson
Least Likable Player: Darcy Tucker
Fan Likability: Whatever
ZZZZZZZZZZZZZZZZzzzzzzzzzzzzzzzzzzzzzzzzzzzzzzzzzzzzzzzzzzzzzzzzzzzz
Most Likable Player: Zzzzzz
Least Likable Player: ZZZzzzz
Fan Likability: As much as other Columbus sports fans. Aka, genocide-advocatingly good!
Minnesota never should have lost their team. Hull's skate was in the crease. Texas is a shitty state. Fuck you all to hell.
Fuck I'm not doing this part.
Imagine if you will, that you're Dr. Hockeystein. You need to create a monster team out of spare parts. The problem is, you only have vaginas. You would be the creator of the Red Wings. While the Ducks are obnoxious to watch because they're a bunch of fight-mongering assholes, the Red Wings are obnoxious for the opposite reason. While they display plenty of grit, there's no inherent toughness, no fighters, no guys you don't want to run into in a dark ally at night. It's a team full of women and geriatric men that without Viagra, are basically women anyways.
Most Likable Player: Justin Abdelkader because his name is fun to say
Least Likable Player: Tie, Tomas Holmstrom, Jimmy "James" Howard
Fan Likability: Entitled, obnoxious, and not very passionate. What do you think?
I realize that as a small-time Calgary Flames fan, I should hate them. But I don't. In fact, I rather like them. Something about most West Coast teams makes them difficult to dislike. Probably because the Sabres rarely play them, and when they do, they tend to beat them. I mean sure they suck and all, and Devan Dubnyk is as competent an NHL goaltender as a cheese-doodle. What's not to like?
Most Likable Player: Idk, Dustin Penner?
Least Likable Player: Devan Dubnyk
Fan Likability: I have no idea. It's hockey Siberia. Where GMs send players they hate, to die.
Look, it's hockey in Florida. What do you want me to say? I think it's retarded that Florida has two hockey teams and since the Panthers do worse in attendance, they earn my ire.
Most Likable Player: The keyboard dude. Radek Dvorak.
Least Likable Player: Lazy ass Tomas Vokoun.
Fan Likability: f-what now?
I shouldn't hate the Kings. I should just not give two shits about the Kings just like their fans, but I don't. Why? Because every time we play the fucking Kings since 1985, shit like this happens.
Most Likable Player: Dustin Brown
Least Likable Player: Ryan Smyth. Can someone just knock the shit out of him already?
Fan Likability: Snore.
Look, the fans are great. It's too bad their team is boring as fuck and their logo is almost as retarded as Vancouver's literal hall of aborted fetuses...fetii?
Most Likable Player: Niklas Backstrom
Least Likable Player: It's a Trap!
Fan Likability: Second to Buffalo
If you have to use your logo twice at center ice, you're retarded.
The Montreal faithful are about as likable as any wannabe French who resort to soccer chants during a hockey game and burn shit in their city after opening round playoff wins. The fans are the Yankee fans of hockey and the team is dirty as fuck. Every time you go to the Bell Center, you can count on the officiating ass fucking you at every opportunity. Seriously, I saw Koharski with his pants down once...and a donut...
Not to mention the have they biggest asshole in hockey not named Jarkko or Sean. Maxim Lapierre is such a fucking cunt of a human being I want to sic Chris Simon circa 2007 on his pathetic ass. And the fucking ref standing right there doesn't even call a penalty! Are you fucking kidding me? Though it would be a damn shame if someone knocked him out of the league...a shame it didn't happen sooner.
Most Likable Player: Any player on the IR.
Least Likable Player: Tie, Maxim Lapierre, Scott Gomez, Carey Price.
Fan Likability: Negative infinity to the infinitieth power.
You let Andrew Peters score. That fucking happened.

3:00 Mark
Most Likable Player: J.......P.......DUMONT!
Least Likable Player: Jordin Tootoo
Fan Likability:
Through the Roof
Here's another:
Yous guys better hates the Devils's. How many teams can you name that have won multiple Stanley Cups in the past fifteen years and are perennial bottom dwellers when it comes to league attendance. The answer
should
be none. The answer
is
the New Jersey Devils. Who was responsible for slowing hockey to the pace of middle school girls soccer in the 90s? The answer
is
the New Jersey Devils.
Most Likable Player: Patrick Elias. Because he is fucking awesome.
Least Likable Player: Ilya Kovalchuk until proven otherwise anyways...
Fan Likability: Well...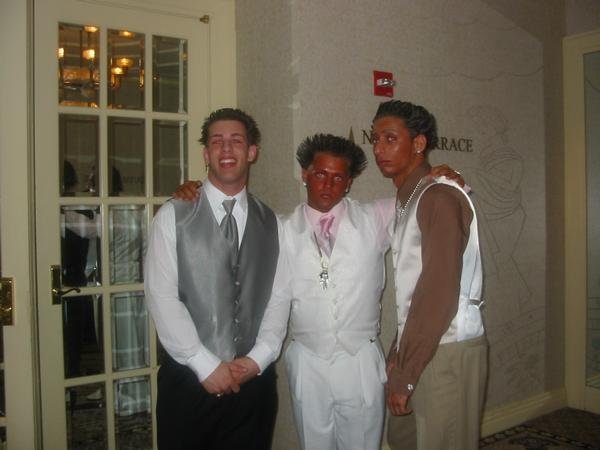 Look, I feel for the Islanders. I really do. They went from arguably one of the most powerful dynasties in the NHL to playing in what can best described as a gazebo 100% full of filth, and 50% full of actual fans. I'm not saying that the arena is dirty, but the second he was drafted, John Tavares came down with AIDS.
Most Likable Player: Gotta be the GM, right?
Least Likable Player: Might also be Garth Snow.
Fan Likability: Right there with Philly
I have two middle fingers firmly extended for the Rangers and their fans. I mean look, at least the Islanders know they're pathetic and haven't been relevant in about 20 years. Rangers fans have such an obnoxious entitlement complex, just because they're from New York City. I mean I love New York City, I think it's beautiful. But let's be honest, it contains the same percentage of assholes and twats as every other city in America not located in New Jersey. Get over yourselves.
Sean Avery is a prick and Henrik Lundqvist is overrated. There, I said it. Lundqvist has got to be one of the least clutch players in the league, right? I mean how does Roberto Luongo catch so much flak and Lundqvist escapes it. Other than the fact that the Rangers are always terrible because their GM is a retarded chimp and they often don't even get the opportunity to choke like Bobbi Eden in the playoffs (google it!). I mean, we're talking about the guy that couldn't even out-duel Brian Boucher to get into the playoffs. Brian fucking Boucher. Who the hell is Brian Boucher?
In an unrelated note, doesn't that coach look like Dick Jauron?
Most Likable Player: None.
Least Likable Player: If you have to ask, you're on the wrong blog.
Fan Likability: Meh, whatever, they sell out their building and don't know anything about hockey.
Dirtiest god damn team in the league. Did I use that already? Fuck it, I don't care. Has there ever been a likable Ottawa Senator? Seriously. Ray Emery was a smug bastard. Dany Heatley is a loudmouthed bastard. Jason Spezza is a douchebag. Daniel Alfredsson is one of the dirtiest players in the league, yet no one calls him on it. Their former coach sounded like gay daffy duck. Andy Sutton knows about six total words...whoops he's gone. Chris Neil looks like he tried to fellate a moving sledgehammer, and Jarkko Ruutu should have his teeth similarly removed for the safety of the rest of the league.
Most Likable Player: Nick Foligno
Least Likable Player:
Fan Likability: Worst Canadian Hockey Market. Hey, someone has to be last.
I know I should hate Philly, but I don't. Not all the time anyways. As a kid, my first favorite player in the league was Ron Hextall. I love a rough and tumble style of hockey, and while the Flyers will fuck you up...(deep breath)...they actually aren't that dirty. Certainly less so than a Montreal, an Anaheim, or an Ottawa. I mean sure, they threaten annually to lead the league in penalty minutes, and once a year they put an opponent on a stretcher, but I mean come on, for Philly, that's the equivalent of a good natured pat on the butt.
The flip side to that is their fans. God are their fans a bunch of miserable, fat, stupid, pathetic meatballs named Murph and Sal, and Jimbo, who can drink their weight in beer and generally look like Rosie O'Donnell with Robin Williams's body hair. (Now picture it bitches). They booed Santa Clause! Granted that was in 1968, but they've done nothing to change that reputation! How many things can you look at and go, yep, unchanged in 42 years?
Most Likable Player: Ian Laperriere, Quebecois badass. Not to be confused with Maxim Lapierre, who we already covered, and is a cockbag.
Least Likable Player: Jody Shelley. He has two fucking girl's names. He better be tough.
Fan Likability: They don't make a number small enough.
(Insert obvious Hamilton joke). They're alright. One of a few teams that are just ho-hum for me. I still think Jovanovski is an ass-eater though.
Most Likable Player: Lee Stempniak
Least Likable Player: Ed Jovanovski
Fan Likability: Just dandy when they show.
What do you think of when the Pittsburgh Penguins come to mind? Probably Sidney Crosby's Dirty Sanchez playoff mustache? Like the Senators, it seems the Penguins go out of their way to draft unlikable players. SIdney Crosby is a whiner, Malkin plays dirty, and I don't even need to mention Matt Cooke. I'm so annoyed, I'm just going to move on before I need to masturbate to Evander Kane's one punch knockout of Cooke.
Most Likable Player: Jay McKee
Least Likable Player: Sidney Crosby
Fan Likability: Good TV ratings, let em brag a little.
Look, Dan Boyle is a cock. We all know this. Watching him finally beat Evgeni Malkin on behalf of the Colorado Avalanche in the playoffs was poetic. And they picked up Dany Heatley, who no one likes. Still, I have trouble getting excited either way about the Sharks. They're pretty much the same thing they've been for the past ten years. Perennial division winner that is sure to crap out in the playoffs. In the words of the immortal Dennis Green:
Most Likable Player: Joe Pavelski
Least Likable Player: Dan Boyle
Fan Likability: Tossing sharks on the ice in Detroit to spite Wings fans? Winner!
Ah, Buffalo south. A once great franchise and fanbase whittled away by years of mediocrity and an abysmal performance after the lockout. Unlike the Sabres though, they haven't had 97, 98, 99, 06, and 07 to pull out of it. Just a bajillion ho-hum playoff appearances from the dawn of time to the lockout. The fans are great, they deserve better than what they see on the ice year in and year out.
Most Likable Player: David Backes
Least Likable Player: I don't even know.
Fan Likability: Read Above
God damnit, Florida again? Who the hell cares?
Most Likable Player: Simon Gagne
Least Likable Player: You fucking Geek!
Fan Likability: Fun fact, since the Tampa Bay Lightning played at the ThunderDome (Tropicana Field) for a short time, they hold the record for largest indoor attendance at 28,183 in the NHL. But it's still hockey in Florida.
I've never been to a Sabres - Leafs tilt. Something about me doesn't feel like shelling out $400 total for tickets to put up with a bunch of assholes from Canada who, since they never win, have perfected the art of douchebaggery.
Honestly, I don't hate the leafs as much as I hate, say...the Rangers, the Senators, the Bruins, the Canadiens, or Stefani Germanotta. I might if they didn't suck. I mean the Sabres beat them roughly 3,872 times in a row up until last season. How do you hate someone whose ass you perennially kick? It's like the University of Michigan, or Penn State University Football hating the 400 FCS teams they schedule every year so
some
teams
in the Big Ten can look like they don't suck.
Most Likable Player: None.
Least Likable Player: Colby "Cherry Picking Asshole" Armstrong
Fan Likability: Depends, do you enjoy beer showers?
A lot of western conference fans hate the Canucks. I just don't. I mean I think Roberto Luongo is as big an egotist as anyone (except maybe that cock-warbler that held that ESPN show to go to Miami), and most of their players are various shades of annoying, but again we only see them 1-2 times a year so I don't really care.
Most Likable Player: Idk, Hamhuis?
Least Likable Player: I hear Burrows and Kesler are assholes...
Fan Likability:
Look, I'll just follow in my policy of being honest. I think that the Caps are made up of a bunch of soft dirty euros, and they play hockey like a bunch of soft dirty euros. I'm as tired of seeing Alexander Ovechkin's shovel-faced toothless smile as I am Crosby's babyish nut-punching puss. The only enjoyable part of the Washington Capitals is the endless amount of Semin jokes I can make.
Most Likable Player: Alexander Semin
Least Likable Player: Alexander Ovechkin
Fan Likability: Alexander the who cares, you weren't even relevant until Ovechkin came into the league.
Fin.