As some of you know, I use Google Analytics to track the traffic to my blog. It gives me mountains of useful and entertaining data, including what Google searches have brought people to my blog. Below are some of my favorites.
1). Sidney Crosby Catholic
Not sure how this one worked since my blog isn't in the top five pages for either a web search or an image search. So this person was really looking for damning religious information against Crosby I guess. The best part is, they spent 23 minutes and 58 seconds on my blog. I guess that makes me entertaining and I should be flattered? Or they really, really wanted that Crosby info.
2). Kind of Ass
I don't know what this searcher was looking for. Again, with my browser and internet settings and all that crap, I don't find my blog within the first five pages. I do hope this intrepid web traveler found the kind of ass they were looking for.
3). Devan Dubnyk
This poor, poor interneter. It was probably his mom or something and all I do is rant about how terrible he is, and compare him to Patrick Lalime. P.S. Congrats to you and your agent Devan, for using the Jedi Mind Trick to convince the Oilers to give you a $100,000 raise for a save pct of .889 and a GAA of 3.57. Maybe you could use the force to...I don't know...stop pucks?
Photographic Evidence that Devan Dubnyk Once Actually Saved a Puck
4). Bondage Sex
Alright, this one makes me really proud, I confess. I mean, I'm really going for a certain level of debauchery here, and this about takes the cake. Seriously, half of my entries feature sex, though to be fair there's less titties and more research and statistics...oh well.
On a side note, how is Kink.com's
Sex and Submission
not the first hit for this search? I'll spell it out for you in case you're retarded. This is porn. Know the consequences before you click. I will link the first SFW pic I find with this search. This may take a while.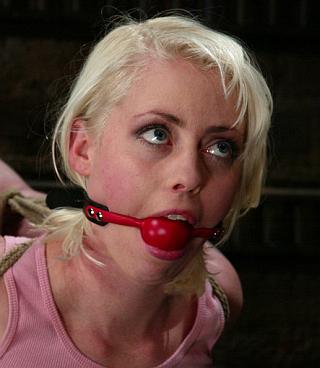 Everyone, it's Buffalo Native Lorelei Lee!
Photo from Sex and Submission
5). Family Sex
Do not do a Google image search for this. I'm fairly certain several of the results are in fact illegal, and I have no desire to get a closer look. I don't know who you are, but on July 6th you were craving some incest, and somehow found my blog (I'm guessing because of my entries on sex-ed). So...um...way to go? Now if you'll excuse me, I'm going to go shower.