Credit to Dehaas for the idea.
WARNING: THE MOST NSFW THING I'VE DONE
The Ryan Leaf
- Slammin, super hot, then when you get her in bed she performs about as well as...well...you get the idea. Also known as the Alexander Daigle and the Marek Zagrapan.
The Donovan McNabb
- It's going really well, you're almost there, then with thirty seconds to go she chokes and starts vomiting everywhere.
The Tyler Myers
- She's only 19 or 20, looks 15 or 16, and performs like an all-star porn actress.
The Ben Roethlisberger
- She rapes you in the bathroom with a strap-on while her body guard watches. Also known as the Kobe and the Lawrence Taylor.
The Peyton Manning
- Unbelievable, possibly record breaking sex when you're dating, mystifying awfulness when you're married. Also known as the Joe Thornton, the Patrick Marleau, and the Evgeni Nabokov (see where I went with that?).
The Ryan Miller
- Unquestioned awesomeness. But goddamn, was she standing on a hill when she did her eyebrows?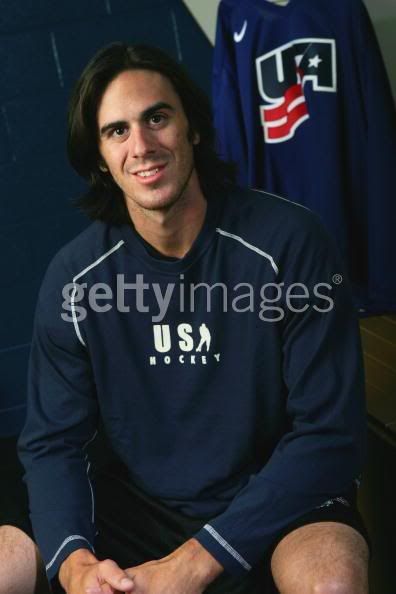 The Vinny Testaverde
- She's an older lady and still has some gas in the tank, but you know she's been with...well...everyone.
The Derek Roy
- Short, cute, guys love her, and she likes going down.
The Clarke MacArthur/Drew Stafford
- So corpse-like, most nights you have to wonder if she's even there.
The Trent Dilfer
- Not flashy, no exciting stats, but she's gotten the job done like 16 nights in a row.
The Maxim Afinogenov
- She might wake you with the best blowjob you've ever had and ever will have, she might try and stick her fist in your ass. You just don't know and you're afraid to find out.
The Ales Kotalik
- Huge rack, not much else. Kind of lazy.
The Sean Avery/Dany Heatley/Daniel Alfredsson
- Swallows.
The Sidney Crosby
- Pretty god damned amazing, but she whines a lot. Plus, is that a moustache? What the fuck is that?
The Willis McGahee
- Single handedly raising the population of your hometown! Wear condoms...like sixteen of them.
The J. P. Losman
- Loves you, loves your neighborhood, gets along great with your family, but keeps pooping on the coffee table.
The Doug Flutie
- That super awesome, super cute chick that was always awesome, but your parents made you dump her for the California blond who couldn't spell sex, let alone manage to have it.
The Bryan Murray
- Constantly trying to talk with dick in her mouth.
The Paul Gaustad
- A little hefty, not much skill, but she can do one thing REALLY well, and there's just something so endearing about her. Honk.
The Jimmy Howard
- Young, looks great, might perform well, then you get her naked and it becomes VERY obvious she's like 48 years old.
The Chris Chelios
- You're 103, seriously, stop having sex.
The Ron Hextall
- Awesome in bed, but the next morning your back is covered in scratches and you have a black eye.
The Brett Hull
- Kind of obnoxious, and she cheated on you.
The Eric Staal
- Faked every orgasm she's ever had.
The Dominik Hasek
- Could single handedly redeem an entire shitty year...if her groin is feeling up to it.
The Steve Slaton/last few years L.T.
- All your friends were going after her, and you were the lucky guy that ended up with her, only to find out she's either super religious and doesn't fuck, or she has a penis. Or both.
The Marty Biron
- Oh those eyes........and she cooks you pancakes.
The Zdeno Chara
- Kind of ugly, sounds a bit like a wildebeest in bed and demands you quadruple wrap it. Might hit you with her purse too.
The Dustin Byfuglien
- Was pretty fat, then got the flu and lost some weight. Now looks really attractive to just about everyone even though you know she's a train wreck/let-herself-go type waiting to happen.
The Brian Moorman
- One of the best ever, plus she's really good at things no woman should know how to do.
The Steve Shields
- Some guy tried to fuck with her friend and she BEAT THE EVER LOVING CRAP OUT OF HIM HOLLLLLY SHIT!
The Ilya Kovalchuk/Pacman Jones
- Super talented, but can't get along with anyone.
The Marian Hossa
- Great in bed, but got left at the altar like three years in a row.
The Tim Connolly
- That really skinny chick you don't want to fuck because you're afraid of breaking her femur in six places by sneezing on her.
The Phil Kessel
- Looks really good because she's surrounded by ugly people.
The Rick DiPietro
- You married her WAY before you should have and then she got in a car accident and is in a coma.
The Carey Price/Scott Gomez/Brian Gionta/etc.
- Pretty good, but has an elaborate ritual she needs to perform EVERY TIME before she has sex that lasts at least thirty minutes and completely kills your boner. Plus afterward, no matter how mediocre it was she's going to get really trashed and destroy your apartment.
The Brett Favre
- Doesn't want any more kids and gets her tubes tied. Then untied. Then tied. Then untied. Then tied.
The Aaron Rodgers/Steve Young
- Better for you than your ex, but to you, still not nearly as good.
The Tom Brady
- Huge bitch.
The Taro Tsujimoto

- The invisible girlfriend you made up to quiet your parents.
The Gilbert Perreault
- The first you ever had, the best you ever had and no one will come close. HOW DARE YOU TRY!
The Daniel Briere/Chris Drury/Brian Campbell
- Left you for your rich neighbor. And you call her a bitch every chance you get even though she cried and asked you not to.
The Mark Mancari
- Seems to have all the tools on paper, will never reach the status of girlfriend.
The Patrick Lalime
- Performs pretty well pretty often despite appearing to be really wasted 100% of the time.
The Ed Belfour
- Actually is wasted 100% of the time.
The John Tavares/Rick Nash
- Pretty good, but lives in a dump of a city, so you'd never date her.
The Ilya Bryzgalov/Shane Doan/Brandon Yip/Martin Hanzal/etc.
- Pretty fucking awesome, but she lives really far away. She keeps telling you she's going to move nearby, but it doesn't seem like it's ever going to happen, even though moving to her current city was a stupid idea to begin with.
The Marty Turco
- Perfect for rebounds!
The Chad OchoCinco
- Talks a big game about her coital skills. Really needs to shut up and practice more.
The Sean Avery II
- Will do anything, any time, anywhere. Just give her attention, please!?!
The Thomas Vanek
- Had her vagina stepped on and sliced apart, but was fucking you like a champ a week later anyways. And goddamn it was good.
The Vladimir Sobotka
- So much of a pussy that even skinny wimpy Czechs can kick her ass.
The Chris Butler
- Young and spectacular. Then you got married and she put on 400 pounds and grew a beard.
The Daniel Sedin
- Hot, good in bed, but you'd rather fuck her sister.
The Drew Brees
- She went through a rough patch and you gave up on her, then found out from the new dude she's dating that she cooks like a five star chef, has no gag reflex, and fucks three times a day every day.
The Tony Romo
- She looks like she has down syndrome.
And finally...
The Rick Jeanneret
- She's been with you since you were born. She is unquestionably the best in the business. She excites you like no one else, and cares more than anyone ever could. She is perfection.